Description
Identify natural FIV infection regardless the FIV vaccination status.
Patented RIM® technology.
Simple 2 step process with easy to read colour change result.
Quality European manufacturing.
Anti-coagulated whole blood (EDTA, Heparin), serum or plasma as sample.
Storage and testing at room temperature.
No additional equipment required.
Description:
Rapid Immuno-Migration (RIM) Assay for detection of Feline Immuno-deficiency Virus antibody in cats.
Point-of-Care test with results in 10 minutes or less.
Recommendations for use:
Diagnosis of Feline Immuno-deficiency Virus infection in sick cats or cats at risk of exposure.
Screening of cats over 6 months of age for FIV prior to vaccination.
Screening of cats of unknown history prior to adoption.
Pack sizes:
Dosage: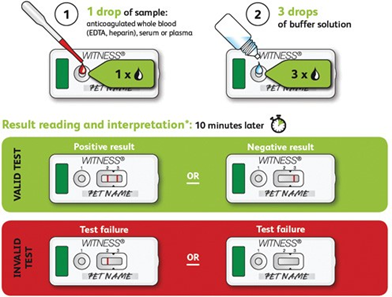 FIV antibody can be passed from an infected or vaccinated queen to kitten and may result in false positive tests in the kitten until 6 months of age.
FIV vaccination will result in false positive test results once sero-conversion has occurred.
Witness® FIV antibody test also available as a combination product.
Storage:
Shelf life 18 months.
Store at 2-25°C.
View All
Close