Description
Patented RIM® technology.
Simple 4 step process with easy to read colour change result.
Quality European manufacturing.
Convenient no-spill faecal solution applicator.
Storage and testing at room temperature.
No additional equipment required.
Description:

Rapid Immuno-Migration (RIM) Assay for the detection of canine and feline Luteinising Hormone at levels above physiological baseline.
Point-of-Care test with results in 20 minutes.

Recommendations for use:

Used to optimise timing of mating in bitches in order to maximise reproductive efficiency.
Used to predict whelping dates in bitches.
Can determine neutering status of bitch or queen.
Can be used for detection of ovarian remnants post-desexing.

Pack sizes:
Dosage: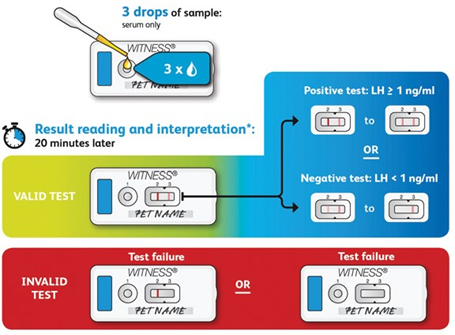 For breeding purposes, interpretation in conjunction with serum progesterone levels and vaginal cytology may be employed.
In desexed bitches and queens, Witness® LH will be positive on 2 consecutive tests 2 hours apart.
In detection of ovarian remnants, a negative test indicates presence of ovarian remnants. A positive test should be followed with a second test 2 hours later, at which time a positive test would indicate absence of ovarian remnants and a negative test would indicate presence of ovarian remnants.
Storage:
Shelf life 18 months.
Store at 2-25°C.
View All
Close